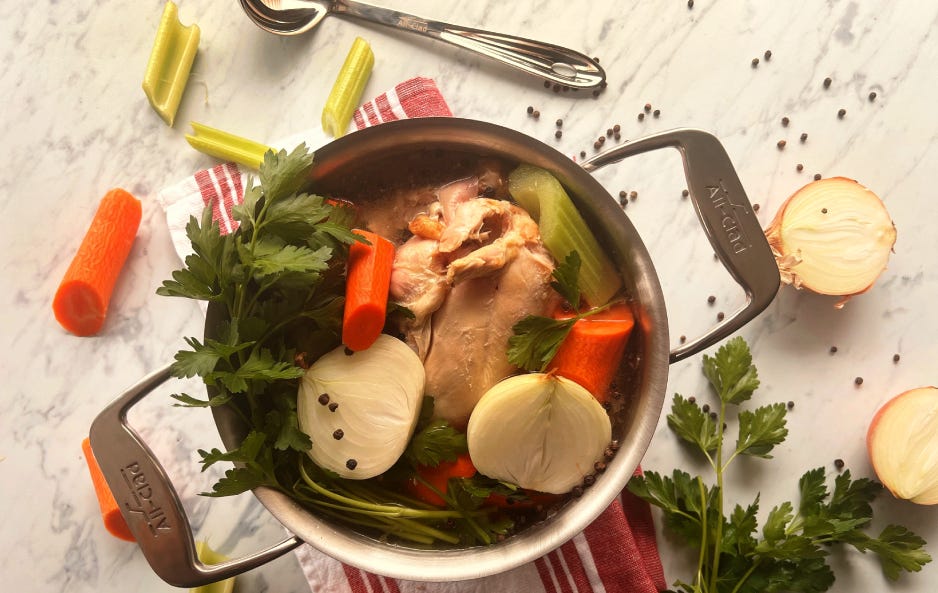 Using the leftover bones from a butchered down chicken is a sustainable and cost-efficient way to make a flavorful base for everyday cooking.
| | |
| --- | --- |
| TYPE | SOUPS & STOCKS |
| SERVES | 4 |
| DIFFICULTY | EASY |
| PREP TIME | 5 MIN |
| COOK TIME | 2 HOURS |
Ingredients
1- 3 pound, uncooked whole chicken, cut into pieces
3 ribs of celery
2 carrots
1 large yellow onion
2 bay leaves
1 teaspoon salt
½ teaspoon pepper
8 cups of water
Directions
In an All-Clad D5® Brushed Soup Pot, add the ingredients above and fill with enough water to submerge, roughly 8 cups of water.
Turn the heat to medium-high and bring to a low simmer. Reduce the heat to medium-low and allow to barely simmer for 2 hours.
Remove from the heat and strain the liquid into containers for use.
You may save the chicken for other recipes. The other ingredients will be significantly cooked down, and some are uneatable. Discard those ingredients after straining the liquids and storing.
Pro Tips:
This stock can be made ahead and frozen for later use for up to 3 months. If kept in the refrigerator, use it within one weeks time.
We recommend keeping enough stock for one use in the fridge while freezing the rest and defrosting when needed to add more flavor to your weekly recipes.
---
Chef Bio
To learn more about this chef, please visit their website at name of link
Connect with them on social name of link